Freelance Writing: Workin' for da Man
by writer, Tony DiGerolamo

What's it like working for big established comic book companies? Is it all candy and gumdrops? No. Is it an oppressive system designed to crush creativity? Uh, not really.

I consider working for other companies or "work for hire" situations a tool to advance my career, as most professional freelancers do. Most pros will take a job for almost anything. Freelancing is a tough business and you usually need the money. What distinguishes one freelancer from another is usually the kind of jobs they WON'T do. For instance, these days I feel that I have enough credits under my belt that I shouldn't have to take "free" jobs. You know the kind of I'm talking about. The ones where the publisher probably won't ever make money and the gig is really just about exposure and credit for the writer.
Over the years, I've been fortunate to work for a few comapnies that paid me pretty well. Let's take a look at some of the assignments: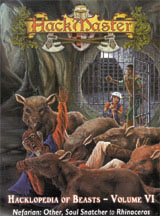 One of my favorite gigs was writing volumes 1 thru 8 of the Hacklopedia of Beasts for Kenzer & Company's Hackmaster RPG. Not only do I enjoy writing monster descriptions, but I had been a longtime player of Dungeons & Dragons, the game Hackmaster was based upon. What was different about this project was that there were fairly stringent editorial restrictions because this was merely one piece of a whole game. (The other pieces still continue to be published at Kenzer & Company.) The langauge of all the books had to match, as well as the tone. It had to be funny, but not too funny as to make the game look unplayable and goofy. Ultimately, I ended up writing about 1600 monster descriptions (200 per book) over the course of about 6 or 7 months. It was fun, good pay and steady work for a long stretch. Exactly what a freelancer hopes for!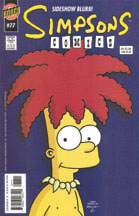 A real dream gig of mine was to write The Simpsons comic book. I had tried to sell a script to the TV show sometime around the third season, but with the popularity of the show, you can imagine the difficulty of achieving that. Fortunately, I had an "in" at Bongo Comics, publishers of the Simpsons comics. My old high school buddy, Karen, works at Bongo on a variety of Simpsons projects and works closely with Matt, the big cheese himself. She recommended me as a writer. I made some pitches to my editor, Terry, based on Bongo's current needs. Originally, he wanted stories for the Simpsons comic strip, but then he needed some stories for the Bart Simpson comic book. I wrote a 2-pager that appeared in Bart Simpson #9 called "A Chair of One's Own" that focused on Lisa. The other story, "Homer vs. the Racoon: Parts I & II" was more about Homer, so it ended up in regular Simpsons. Working with Terry was great because he went to such lengths to keep my story exactly the way I wrote it. I recently handed in two more stories: one about Maggie and the other about Bart and Professor Frink. The stories will probably get published sometime around late in 2003.
The Everknights comic book was originally called "Hackmasters of Everknight". Kenzer & Company decided to streamline the name so it wouldn't be confused with the Hackmaster RPG. I first wrote a fill-in issue for the regular creator/artist/writer, Manny Vega. (See Everknights -3) Later, Manny asked if I would be the regular series writer. Taking over an established series posed several interesting challenges. 1) I was now collaborating with Manny, since he was still the artist and a creator. 2) There was an established history with the characters that needed to be addressed. 3) Since I was beginning as the new writer on a relaunch of a series, Manny and I wanted to give the comic a slightly different feel. Although I don't have as much leeway on Everknights as say, my own comic, The Travelers, working with Manny still affords me the opportunity to do new and interesting things. The scripts are still approved by Kenzer & Company, but they pretty much leave us to our own devices. That's always comforting creatively because I feel free to pursue stories without much fear of having to go back and do massive rewriting.

(The Simpsons are a copyright and trademark of Twentieth Fox Film Corporation. Hackmaster, The Hacklopedia of Beasts and Everknights are a copyright and trademark of Kenzer & Company.)

Email questions to imfix@comcast.net
Return to the Behind the Scenes Menu Return to the Menu Of Menace