Convention Sketches by Chris Moreno
text by Tony DiGerolamo

We always have a lot of fun at conventions. (Sometimes, too much fun.) But in between selling comics, wishing we had a booth the size of CrossGen's and trying to hit on the precious few fangirls that attend conventions, one of the great things we get to do for the fans are sketches. And when I say "we", I mean Chris and the other guys. (After all, what am I suppose to do? Write a script for everyone?) Below we showcase some of the work of our own, Chris Moreno.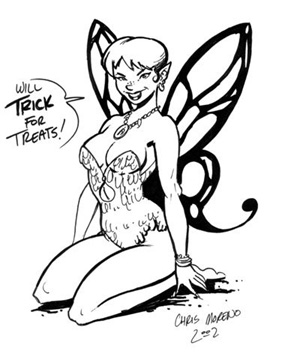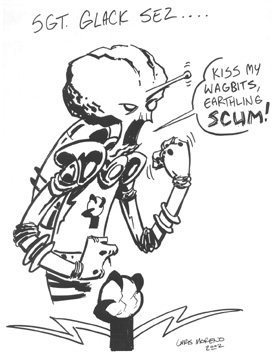 (To the left is a pin-up of Queenie, the fairy madame that runs the Brass Pussycat in Beastlyville. She's featured in The Travelers #14 and makes a brief cameo in #15. Sgt. Glack is one of the Martians from The Travelers #15.)

Every convention ebbs and flows. Sometimes you are so busy, you're collecting the money with both hands. Other times, you drift to other tables to buy some comics to read. Alot of times, we'll brainstorm some ideas at the table. Often, Chris will draw something to fill up his sketch book. He did this pin up of me and a really funny scene with Shambles and Locust during two such moments.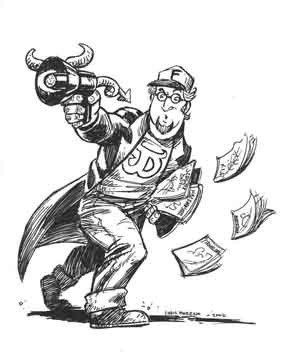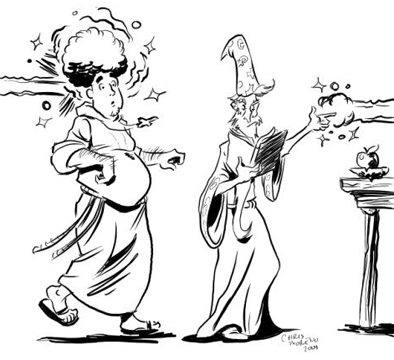 (We use these images for our own signs at the convention table. To the right, another spell from Locust the Wizard goes wrong, much to Father Shambles' dismay. Locust and Sham are two of the main characters in The Travelers.)
If you'd like to order a custom-made sketch of one of our characters or another of your choosing, email Chris Moreno directly with your request. Chris charges anywhere from $20 and up, depending on the detail of your piece.

Email questions to imfix@comcast.net
Return to the Behind the Scenes Menu Return to the Menu Of Menace