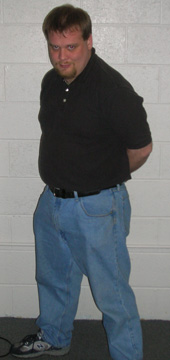 Dan Lavelle

I studied improv through Comedy Sportz Philadelphia. After I finished all the classes, I ran into Matt Nelson at an improv workshop in Philadelphia. He told me about a troupe called "The Ninja's" and how they were looking for new members. So I tried out and was called back to join the next day. Ever since then, I've been a member of "The Ninja's".

In addition to my comedy troupe, I'm also currently working two jobs in the Philly area. First, is with the promotional staff WB-Channel 17 in Philadelphia. The second is a deliveryman and stock clerk for Elcy's Coffee House in Glenside, PA. In my spare time, when I'm not working my jobs or with the ninja's, I usually volunteer at 88.5 WXPN, a public radio station in Philadelphia. Also, I write poems and recite them for the Wednesday's open mike nights at Elcy's.

Well this is all me in a nutshell. I hope this gives you a little idea on who I am. But until then, I'll see you at the next "Ninja" show. See you around.